The Best Sprinkler Repair in Farmers Branch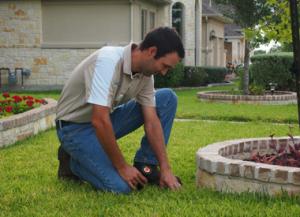 We've been installing and repairing sprinkler systems in Farmers Branch for more than 10 years now. During that time we've seen system go from prepackaged, expensive, one-size-fits-all models to easily customized, highly affordable systems that are affordable to most homeowners. This has led to an explosion in the sprinkler installation industry and with it a spike in the number of companies doing it. The problem is, many of these companies are fly-by-night operations that simply install the one-size-fits-all models and don't care much about the people who will be using it. That's why what we have to offer sets us apart from our competitors - Experience. We've put in and repaired more systems in the Farmers Branch area than the next closest competitor twice over. We know everything about the area from the annual rainfall levels and ground soil composition to the best native plantings to use to reduce your need for frequent watering.

In addition to having more experience than the competition, we are also a one service shop. We don't do sprinkler repair on the side. We aren't jack-of-all-trades repairmen. We only do sprinkler systems. They are highly specific and require a good deal of knowledge about water pressure, valve controls, pop-up head diaphragms and underground wiring on the mechanical end and then an equally deep knowledge of local weather conditions, soil absorption and runoff rates and the best ornamental plants and turfgrass covers for a lawn. Local handyman services and fly-by-night operations simply don't have the knowledge to install an efficient system for you.

Our Farmers Branch Sprinkler Repair Team Suggests Yearly Maintenance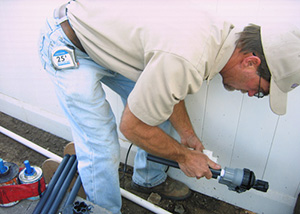 Our professional Farmers Branch sprinkler repair staff believes that you should have your system checked and tuned up every spring. The winter months can play havoc with a system, especially one that didn't get properly winterized with a blow-out. Pop up heads can crack, diaphragms can dry out and backflow devices can be damaged by ice damming. Our Farmers Branch sprinkler repair team starts at your control box or water connection and works through each line individually checking the function of every pop up head and drip line along the way. When we've completed our inspection you'll be given a full report and a rundown of the repairs that need to be made and adjustments that our team suggests. We won't do any repair work until you've approved the written estimate.

Our Farmers Branch Irrigation Contractors Can Help you Save Water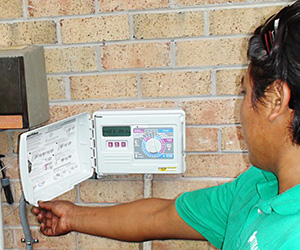 One of the major reasons for getting a sprinkler system installed is to reduce your water usage. What some owners don't realize is the system needs to be adjusted every year to compensate for the growth of plants in planting beds and the rise in turf level. Our Farmers Branch sprinkler repair experts will evaluate your current system set-up and timer controls and tweak them to allow you to get the most bang for your buck while not compromising the health of your plants or lawn. We usually suggest a system that takes advantage of rain sensors to adjust the timing of watering runs. This will prevent the lawn from being over watered and save you money by limiting sprinkler cycles to only the times your lawn really needs them. Call our Farmers Branch sprinkler repair team to schedule your audit today.